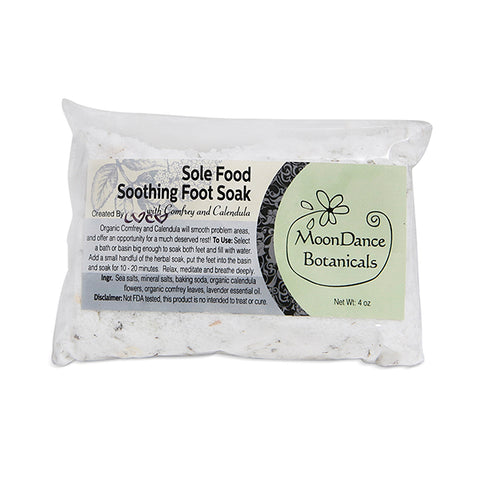 Sole Food Soothing Foot Soak
A nourishing and hydrating soak for the feet! Organic Comfrey and Calendula will heal, smooth problem areas, and offer an opportunity for a much deserved rest! Take it!
_________________________________________________________________________________
To Use: Select a bath or basin big enough to soak both feet and fill with water. Add a small handful of the herbal soak, put the feet into the basin and soak for 10 - 20 minutes. Relax, meditate and breathe deeply. 
Size: 4 oz
Ingredients: Sea salts, mineral salts, baking soda, organic calendula flowers, organic comfrey leaves, lavender essential oil.
General Disclaimer: Products made by MoonDance Botanicals are inspired by the established principles of herbalism.  However, herbalism is not a replacement for medical attention if necessary.  Our products are not intended to prevent, treat or cure disease. Neither the statements made here nor the products have been evaluated by the FDA. Please speak with your doctor if you have any concerns about your health.  Even with all natural skin care products, allergies may occur.  If concerned about an allergy, please patch test a small area prior to use.  
---
We Also Recommend
---