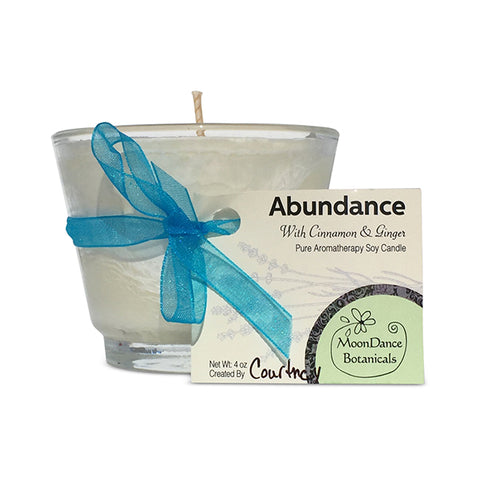 Abundance Candle
Light this candle with intention and bring abundance to your life.  This candle contains Ginger and Cinnamon - warming herbs!
_________________________________________________________________________________
To Use: Light with intention. Keep a safe distance from other objects. Blow out the candle when leaving the room.
Size: 4 oz
Ingredients: Handmade with essential oils of cinnamon and ginger, soy.
Product benefits: Aromatherapy is the practice of using the natural oils extracted from flowers, bark, stems, leaves, roots or other parts of a plant to enhance psychological and physical well-being.

The inhaled aroma from these "essential" oils is widely believed to stimulate brain function. Essential oils can also be absorbed through the skin, where they travel through the bloodstream and can promote whole-body healing.
Notes:  Products made by MoonDance Botanicals are inspired by the established principles of herbalism.  However, herbalism is not a replacement for medical attention if necessary.  Our products are not intended to prevent, treat or cure disease. Neither the statements made here nor the products have been evaluated by the FDA. Please speak with your doctor if you have any concerns about your health.  Even with all natural skin care products, allergies may occur.  If concerned about an allergy, please patch test a small area prior to use.
All of our herbal products are handcrafted in small batches, with high quality, all natural ingredients in our Denver Apothecary. Our goal is to produce a botanical product that nurtures you, is good for the Earth and has ingredients you can feel confident and excited to use on yourself and your loved ones.
---
We Also Recommend
---