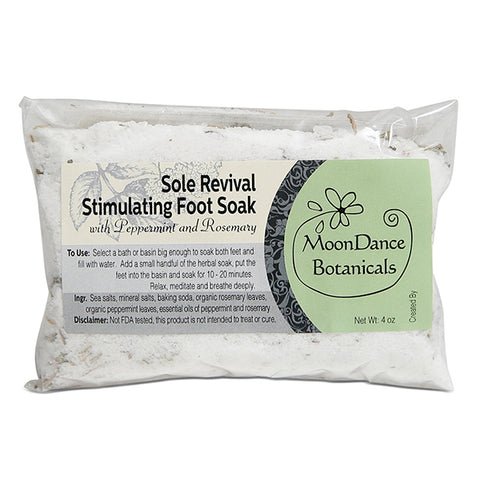 Sole Revival Stimulating Foot Soak
Ease your feet into this reviving soak of peppermint and rosemary and feel the energy being restored. Get up and go!
_________________________________________________________________________________
To Use: Select a bath or basin big enough to soak both feet and fill with water. Add a small handful of the herbal soak, put the feet into the basin and soak for 10 - 20 minutes. Relax, meditate and breathe deeply. 
Size: 4 oz
Ingredients: Sea salts, mineral salts, baking soda, organic rosemary leaves, organic peppermint leaves, peppermint essential oil, rosemary essential oil.
General Disclaimer: Products made by MoonDance Botanicals are inspired by the established principles of herbalism.  However, herbalism is not a replacement for medical attention if necessary.  Our products are not intended to prevent, treat or cure disease. Neither the statements made here nor the products have been evaluated by the FDA. Please speak with your doctor if you have any concerns about your health.  Even with all natural skin care products, allergies may occur.  If concerned about an allergy, please patch test a small area prior to use.  
All of our herbal products are handcrafted in small batches, with high quality, all natural ingredients in our Denver Apothecary. Our goal is to produce a botanical product that nurtures you, is good for the Earth and has ingredients you can feel confident and excited to use on yourself and your loved ones. 
---
We Also Recommend
---