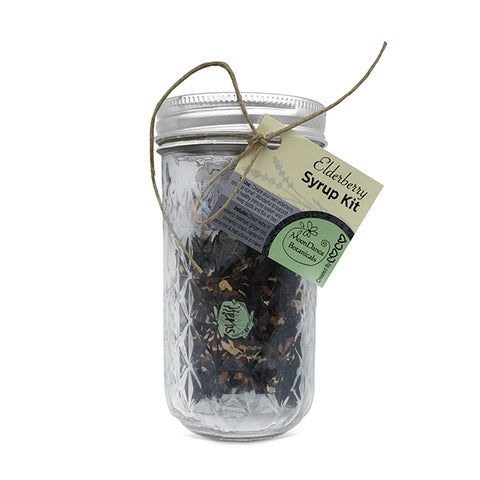 Elderberry Syrup Kit
Create your own Elderberry Syrup at home! Wonderful to support a healthy immune system and keep colds and flus at bay! This remedy is as tasty as it is effective! Have a healthy season!
_________________________________________________________________________________
To Use: In a pan on the stove, add 3 cups water and dried herbs, bring to a simmer for 30 minutes. Remove from the heat and allow to steep for 1 hour.  Water should be reduced by half. Strain out the herbs and add honey (or whiskey if desired!).  Store in fridge.  Take 1 tablespoon a day to help bring the cold and flu season. 
Click here to see the refill herb product. 
Note: To maintain avoid contaminating the syrup, always use a clean spoon when retrieving the syrup out of the jar. 
Size: 3 oz
Ingredients: Herbs include elderberry, rosehips, ginger root, cinnamon chips, cardamom, licorice root. 
Optional to add: Honey to taste, whiskey to preserve or for taste.
Note: Products made by MoonDance Botanicals are inspired by the established principles of herbalism.  However, herbalism is not a replacement for medical attention if necessary.  Our products are not intended to prevent, treat or cure disease. Neither the statements made here nor the products have been evaluated by the FDA. Please speak with your doctor if you have any concerns about your health.  Even with all natural skin care products, allergies may occur.  If concerned about an allergy, please patch test a small area prior to use.
All of our herbal products are handcrafted in small batches, with high quality, all natural ingredients in our Denver Apothecary. Our goal is to produce a botanical product that nurtures you, is good for the Earth and has ingredients you can feel confident and excited to use on yourself and your loved ones. 
Elder berry
---
We Also Recommend
---