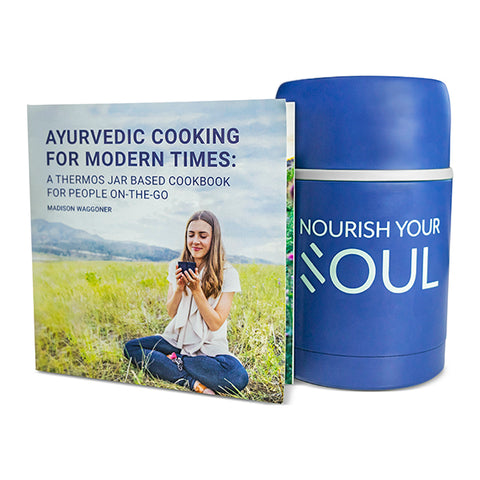 Veda Jar + Cookbook
We are thrilled to add a product to our site by a fantastic Ayurvedic practitioner, Madison Waggoner. 
Madison noticed that clients struggle to eat a decent lunch. A nourishing mid-day meal keeps us from experiencing energy slumps or cravings in the afternoon.
To solve this problem, Madison created the Veda Jar - a mobile crockpot! 10 minutes of cook time is all you need to enjoy a hot, nourishing meal at work or on an outdoor adventure later in the day. The jar keeps food hot for up to 6 hours and drinks hot for up to 12 hours.
The Veda Jar comes with an Ayurvedic cookbook that has seasonal recipes for your mind-body type or dosha. When your stomach growls, grab your Veda Jar and enjoy your warm, freshly prepared meal wherever you are.
The Veda Jar and Ayurvedic cookbook have been intentionally designed and created by Shri Wellness.
Product Details
24 oz
- High quality, stainless steel
- Durable food grade materials 
- Vacuum-packed and insulated thermos jar
- BPA free
- Phthalate free
- Great for food and drink
---
We Also Recommend
---